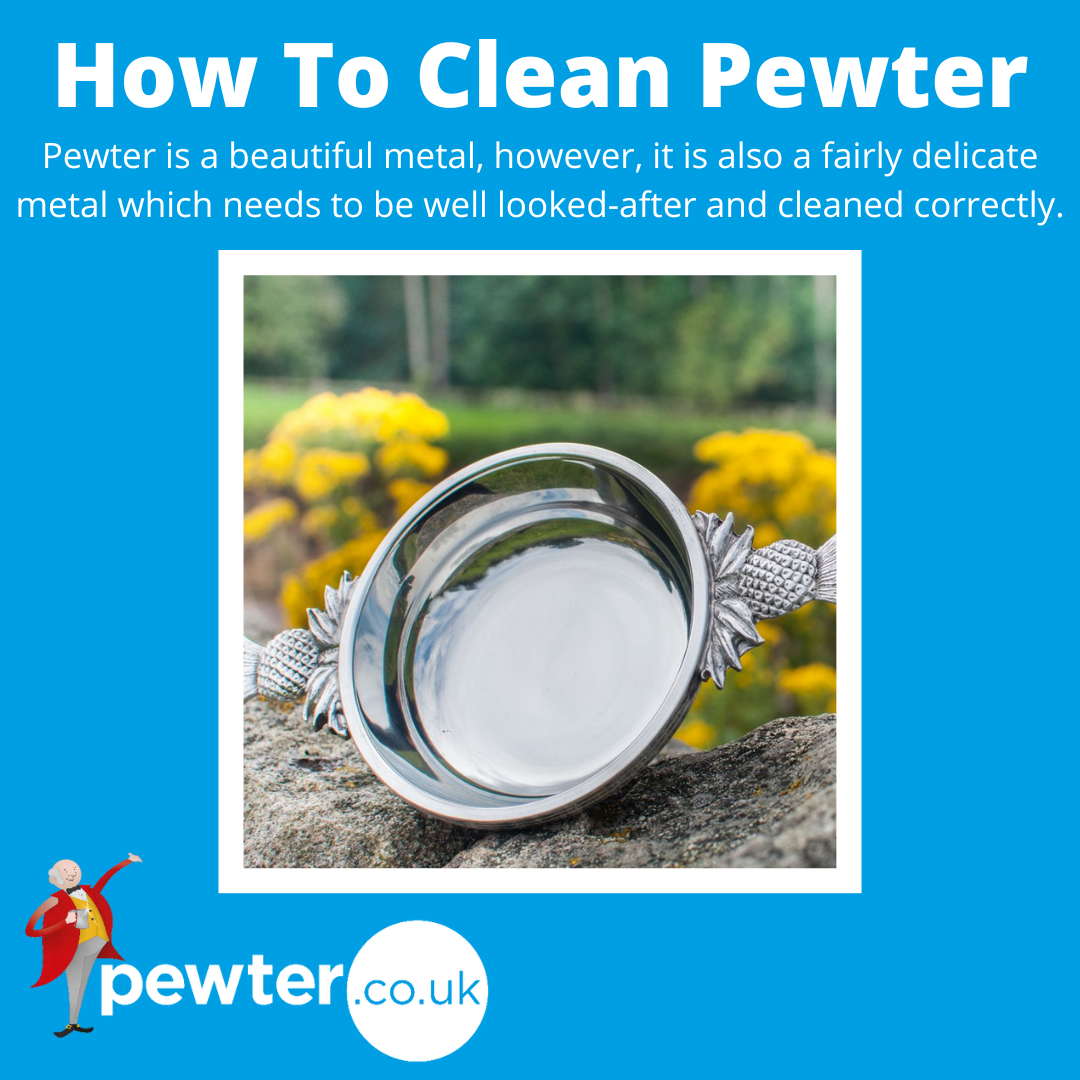 Pewter is a beautiful metal, however, it is also a fairly delicate metal, which needs to be well looked-after and cleaned correctly.
Your pewter piece is unique and iconic and to keep it in its prime condition it is important to clean it if it becomes dirty, dull or dusty.
However, depending on the type of pewter, determines how to clean it. There are 3 types of pewter…
Polished Pewter – this has a smooth and shiny mirror-like surface, which is extremely pretty, however, this also means that imperfections are easily seen. This type of pewter is cleaned by first washing it with warm water and washing up liquid and then polishing it using either a shop-bought polish, such as Brasso or a homemade polish, for which there are many recipes (see below).
Satin Pewter – this is similar to polished pewter, except that it is more matte in appearance and has a rougher grain. It needs polishing less often than polished pewter and instead can be buffed using fine steel wool. Ensure you buff along the grain of the pewter, rather than in circles, in order to ensure a clean finish. Similar to polished pewter, satin pewter can also be washed with warm water and washing up liquid.
Oxidised Pewter – this is the type of pewter that is charcoal-grey in colour and shouldn't be polished, otherwise the dark colour layer could be removed. This type of pewter just needs to be washed in warm water with washing up liquid when necessary. You can also gently dust oxidised pewter.
Homemade Polish Recipes
There are lots of weird and wonderful-sounding ways to make a homemade polish, with various recipes found on the internet, such as…
Linseed Oil and Rottenstone (similar to pumicestone)
We would, however, recommend using a shop bought polish to ensure a polish with the correct quantities of ingredients!
Things to avoid when using or cleaning your Pewter Piece
There are things that you can do (and avoid!) to keep your pewter in tip-top condition and prevent it from needing to be cleaned/polished as often.
The most important thing to take away from this blog, is to never put your pewter piece in the dishwasher, due to both the heat (could misshape the pewter) and strong detergents (could dull the pewter). The pewter could also knock into other items in the dishwasher, causing dents.
Don't leave alcohol in pewter tankards/flasks for more than 24 hours.
Don't put carbonated drinks in pewter tankards/flasks.
Don't put hot drinks in pewter tankards/flasks, as this could misshape the metal.
Clean your pewter pieces immediately after use – don't leave to soak – and ensure you dry them immediately after washing, so as not to leave waterdrop marks.
Don't leave your pewter piece near a heat source, as again, this could start to melt and misshape the metal. Similarly, don't put it in the oven or on a hot plate.
Don't stack your pewter pieces on top of each other – this could cause scratches and dents.
Don't store food in pewter pieces.
Don't serve acidic food e.g. tomatoes, or hot food, in pewter pieces.
If you're still not quite sure how best to care for your pewter piece and are passionate about keeping it in pristine condition, just get in touch – our expert team have years of experience of working with pewter and are happy to advise you!
Time to add to your Collection?
Upgrade to a Wentworth Pewter Tankard, Flask or Quaich, each piece has been lovingly handcrafted in Sheffield, UK. Shop Our Range Here.